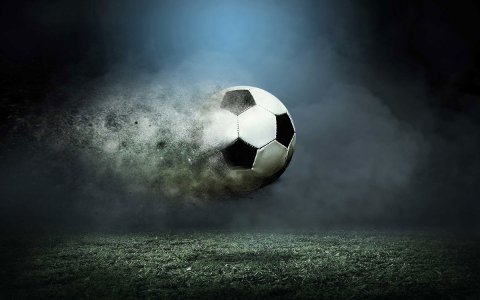 By: Harvey FialkovMar 9, 2020
Bend It Like Club Internacional de Fu'tbol Miami
When it comes to goals, international soccer icon David Beckham is an expert. So, his five-year dream of bringing world-class futbol to Miami and its diverse, soccer-mad fan base is just a matter of when, not if.
Recently christened the Club Internacional de Fu'tbol Miami or Inter Miami CF for short, the team will join Major League Soccer in the March 2020 season.
"This is such a proud day for myself and for the entire team," Beckham said at a recent press conference in which he revealed the team's crest. "We are taking another important step in establishing our club and today marks an important moment in the history of Club Internacional de Fútbol Miami."
Whereas most of the professional soccer franchises that have passed through Miami played their home games in Fort Lauderdale, Beckham and his eclectic ownership group are determined to build a permanent 25,000-seat, $225 million stadium in Downtown Miami.
Joining forces with Beckham are Jorge and Jose Mas, the Miami-based Cuban-American leaders of telecommunications; Sprint CEO Marcelo Claure, Masayoshi Son, founder of SoftBank and American Idol producer/entertainment mogul Simon Fuller.
"We are extremely excited to offer the team's identity to Miami and the world,'' Claure was quoted as saying. "This team will thrive on the principles of solidarity, passion, innovation, tenacity and inclusivity and embodies all of them in every aspect of our daily work – on and off the field.''
Miami Shines for Soccer Fans
Sports fans around the globe have come to sun-splashed Miami to enjoy world-class tennis at the Miami Open, to watch three-time NBA champion Miami Heat, catch a baseball game at the Marlins' state-of-the-art Stadium in Little Havana and of course take in a Dolphins game at the recently renovated Hard Rock Stadium.
They will soon be able to witness the most exciting, skillful soccer in America in the heart of Miami, just 8 miles from Miami International Airport and then hit the beach and nightlife afterward.
A ticket to an Inter Miami CF match won't just mean three hours of watching elite MLS stars, Mas also intends on making it an all-day event, including a fan plaza outside the stadium as well as a March to the Match along the Miami River, similar to college football's Vol Walk at the University of Tennessee and the pre-match march Sounders fans do in Seattle.
Beckham, the former star of Manchester United, Real Madrid and L.A. Galaxy, and his group plan on building a massive $1 billion technology park on more than 160 acres and call it Miami Freedom Park. It would include an underground parking facility, 23 acres of public soccer fields, 500 new hotel rooms, a conference center, retail stores, restaurants and more. The master plan includes a privately developed training academy focused on developing local players.
"The cultural mosaic that is Miami, with the Latin community and the makeup of it, soccer runs in their blood,'' managing owner Jorge Mas told CNBC.
Inter Miami CF's Emblem
Beckham was thrilled with the team's crest and emblem which is part of street art in Miami's trendy Wynwood Arts District, a hidden gem, which is located a goalie kick away from the projected stadium site.
Beckham said the crest "represents Miami's international, diverse, inclusive, creative and ambitious spirit."
The circular logo is black with pink trim, including great white herons whose intertwined legs form a letter "M," under an eclipsed sun to communicate unity.
The heron symbolizes freedom, power, protection and patience in Greek mythology. The three-pointed shield points to the three counties: Miami-Dade, Broward and Palm Beach, all of which are chock-full of future Inter Miami CF fans.
At the bottom of the logo is the roman numeral MMXX or 2020, the year the team is scheduled to begin play.
"The authenticity, the South American flavor we wanted in there we also needed that modern twist as well, because that's what Miami is all about,'' said Beckham, co-owner and president of soccer operations.
David Beckham's Star Power Backs Miami's New Soccer Team
South Florida soccer fans have been teased for years with professional franchises that graced the landscape before departing for various reasons. From the Miami Toros, Miami FC, to two incarnations of the Strikers and most recently the Miami Fusion (1997-2001), all have eventually relocated or folded.
None have had the stability, wealth, star power and passion of an ownership group spearheaded by Beckham, 44, who retired with more than 100 goals in 115 international appearances.
On an Inter Miami CF promotional video, South Florida-connected celebrities and sports greats all welcomed Beckham's club to Miami with open arms. The A-list included Jennifer Lopez, Will Smith, Emilio Estefan, Usain Bolt, Tom Brady, Wladimir Klitschko, Serena Williams, DJ Khaled and Jay-Z.
Beckham has already increased soccer popularity in the U.S. after leading the Galaxy to two MLS Cup tiles during his five-year, injury-plagued tenure. Beckham and his glamorous singer/model wife Victoria have some unfinished business to tend to in their adopted city, where they raise their four children.
"Our pledge to our fans in Miami and around the world is simple: your team will always strive to make you proud on the pitch, our stadium will be a place that you cherish visiting and our impact in the community and on South Florida's youth will run deep,'' Beckham was quoted as saying.
It's another GOOOOOOOOOOOAL Beckham surely won't miss.
Read More:
The Team Soccer Fans Have Been Waiting For
St. Thomas University Sports
Where To Watch & Play Sports In Miami
Annual Miami Sporting Events